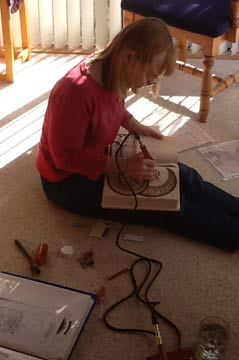 Jane Allnatt has always been involved in art in its many forms. Presently Jane is focusing on wood sculpture. Previously she has immersed herself in diverse mediums including: pottery; metal repousse; leather; silver jewelry; bone; paper mache; modelling and casting; commercial art; painted banners and soft-stone sculptures. All of these artistic forms have been essential in the development of Jane's creative vision.
Jane has held three multi-media exhibitions (1996, 1998, 2000) and one wood carving exhibition (2018). She has been Guest Exhibitor twice at the National Woodskills Festival in Kawerau (1999, 2004, 2019). Jane has showed and sold works from 2005 until the present at the Auckland Easter Show. In 2006, the South Auckland Woodturners Guild invited Jane to be Guest Exhibitor and Demonstrator to encourage and promote woodcarving in New Zealand. This was also held at the Easter Show. She has given presentations at South Auckland, Franklin and West Auckland Woodturners groups.
Since 1993 Jane has worked full-time as a wood sculptor. Jane first entered into the National Woodskills Festival in 1996 where to her surprise she picked up three awards. Jane has also competed at Manukau, Thames, Whangamata and Waihi where she has gained awards. Twenty-two years of competition has pushed her work up to the highest standard. Jane was a judge at the bi-annual Taranaki Woodcraft Festival in 2009 and 2017.
AWARDS
| Work | Year | Place | Competition |
| --- | --- | --- | --- |
| Mermaid | 2019 | 2nd in Carving Open | Kawerau National Woodskills Festival |
| Present | 2019 | 2nd in Pine | Kawerau National Woodskills Festival |
| Tree of Life | 2019 | 2nd in Sculpture Open | Kawerau National Woodskills Festival |
| Tree Of Life | 2017 | 1st in Open Carving | Kawerau National Woodskills Festival |
| The Tainui Kid | 2017 | 2nd in Anything Goes | Kawerau National Woodskills Festival |
| Sea Star | 2017 | Highly Commended in Woodcarving | Royal Easter Show |
| Miss Catsby | 2016 | 1st in Anything Goes Gatsby | Kawerau National Woodskills Festival |
| Hair | 2016 | 1st in Pine | Kawerau National Woodskills Festival |
| Kowhai Koru | 2016 | 3rd in Open Carving | Kawerau National Woodskills Festival |
| Eye Of The Storm | 2016 | 1st in Woodcarving | Royal Easter Show |
| Pohutukawa Koru | 2016 | 2nd in Woodcarving | Royal Easter Show |
| Cornucopia Crib | 2015 | 3rd in People's Choice | Kawerau National Woodskills Festival |
| Shadow Dance | 2015 | Highly commended in Carving/Sculpture | Kawerau National Woodskills Festival |
| AxeSaw | 2015 | Highly commended in Pinus Radiata | Kawerau National Woodskills Festival |
| Fantail | 2015 | 1st in Woodcarving | Royal Easter Show |
| Ukulele | 2015 | 2nd in Woodcarving | Royal Easter Show |
| Nautilus Baby | 2014 | 1st in People's Choice | Kawerau National Woodskills Festival |
| Multi Hammer | 2014 | 3rd in Pinus Radiata | Kawerau National Woodskills Festival |
| Peacock | 2014 | Highly commended in Carving/Sculpture - Open | Kawerau National Woodskills Festival |
| At Rest | 2014 | 2nd in Woodcarving | Royal Easter Show |
| Koru Curls | 2014 | 3rd in Woodcarving | Royal Easter Show |
| High Tide | 2013 | 1st in Woodcarving | Royal Easter Show |
| Featherpod | 2012 | 1st in Pine | Kawerau National Woodskills Festival |
| Paw Print | 2012 | 2nd in Open Sculpture | Kawerau National Woodskills Festival |
| Fruit Triptych | 2012 | 3rd in Public Choice | Kawerau National Woodskills Festival |
| Koru Basket | 2012 | 1st in Woodcarving | Royal Easter Show |
| Pacific | 2012 | 3rd in Woodcarving | Royal Easter Show |
| Rope Jug | 2012 | 3rd in Woodcarving | Royal Easter Show |
| Kiwi Dream | 2011 | 1st in Carving - Rugby World Cup Theme | Kawerau National Woodskills Festival |
| Curtain Call | 2011 | 1st in Open Sculpture | Kawerau National Woodskills Festival |
| Cuckoo's Nest | 2011 | 1st in Public Choice | Kawerau National Woodskills Festival |
| Kiwi Kite | 2010 | 1st in Maori Theme | Kawerau National Woodskills Festival |
| Grandad | 2010 | 1st in Miscellaneous | Kawerau National Woodskills Festival |
| Wearable Wood | 2010 | 2nd in Wearable Arts | Kawerau National Woodskills Festival |
| Basket | 2010 | Merit Award in Pine | Kawerau National Woodskills Festival |
| Spiral Pourer | 2010 | 3rd in Woodcraft | Royal Easter Show |
| Ben Hare | 2010 | Merit Award in Woodcraft | Royal Easter Show |
| Old Rope | 2010 | Merit Award in Woodcraft | Royal Easter Show |
| Kiwi Black | 2009 | 3rd in Kiwiana | Kawerau National Woodskills Festival |
| Kiwiana | 2009 | 1st in Woodcraft | Royal Easter Show |
| Large Star Shell | 2009 | 2nd in Woodcraft | Royal Easter Show |
| Allure | 2008 | 3rd in Sculpture | Kawerau National Woodskills Festival |
| Dreamtime | 2007 | 2nd in Australian Theme | Kawerau National Woodskills Festival |
| Skilsaw | 2007 | 2nd in Pine | Kawerau National Woodskills Festival |
| NZ Plants | 2007 | Peoples Choice in Wood | Whangamata Arts |
| Grape Vessel | 2006 | 1st in Miscellaneous | Kawerau National Woodskills Festival |
| Woodturners Saw | 2006 | 2nd in Pine | Kawerau National Woodskills Festival |
| Fork & Roses | 2006 | 3rd in Sculpture | Kawerau National Woodskills Festival |
| Knit and Serve | 2006 | Highly Commended in Off the Wall | Kawerau National Woodskills Festival |
| Roped Vessel | 2005 | Highly Commended in Wood | Whangamata Arts |
| Spade | 2004 | 1st in Pine | Kawerau National Woodskills Festival |
| Kiwi | 2004 | 1st in Wood | Waihi Summer Festival |
| Ivy Jug | 2004 | 1st in Wood | Whangamata Arts |
| Fishing Hat | 2003 | 1st in Fantasy | Kawerau National Woodskills Festival |
| Kaka | 2003 | 1st in Native Birds | Kawerau National Woodskills Festival |
| Jester | 2003 | 1st in Sculpture | Kawerau National Woodskills Festival |
| Innocence | 2002 | 1st in Wood | Waihi Summer Festival |
| Starfish | 2002 | 2nd in Hebel | Whangamata Arts |
| Fillet'O'Fish | 2002 | 2nd in Wood | Whangamata Arts |
| Innocence | 2001 | 1st in Birds | Kawerau National Woodskills Festival |
| Reggie Radiata | 2001 | 1st in Pine | Kawerau National Woodskills Festival |
| Liberation | 2001 | 2nd in Woodcraft | Thames Society of Arts |
| Shell | 2001 | Merit Award in Hebel | Thames Society of Arts |
| Autumn Feast | 2001 | Merit Award in Woodcraft | Thames Society of Arts |
| Autumn Feast | 2000 | 3rd in Sculpture | Kawerau National Woodskills Festival |
| Autumn Feast | 2000 | Peoples Choice | Kawerau National Woodskills Festival |
| Tri-Heads | 2000 | 2nd in Woodcraft | Thames Society of Arts |
| Celtic Dream | 1999 | 2nd in Miscellaneous | Kawerau National Woodskills Festival |
| Solo Mum | 1999 | 2nd in Toys | Kawerau National Woodskills Festival |
| Silent Strings | 1999 | 3rd in Fantasy | Kawerau National Woodskills Festival |
| Summer Hat | 1999 | Highly Commended in Pine | Kawerau National Woodskills Festival |
| Lady of the Silver Strings | 1998 | 1st in Fantasy | Kawerau National Woodskills Festival |
| Tri-Heads | 1998 | 1st in Miscellaneous | Kawerau National Woodskills Festival |
| Cereball | 1998 | 2nd in Toys | Kawerau National Woodskills Festival |
| Sixpence | 1998 | Highly Commended in Sculpture | Kawerau National Woodskills Festival |
| Lady of the Silver Strings | 1998 | Peoples Choice | Kawerau National Woodskills Festival |
| Teddy Bears Picnic | 1997 | 1st in Toys | Kawerau National Woodskills Festival |
| A Dragons Tale | 1997 | 2nd in Fantasy | Kawerau National Woodskills Festival |
| Ta Moko | 1997 | Highly Commended in Indigenous | Kawerau National Woodskills Festival |
| Pussom | 1996 | 2nd in Toys | Kawerau National Woodskills Festival |
| Protea | 1996 | 2nd in Wood Relief | Kawerau National Woodskills Festival |